GOLD STICKER POLICY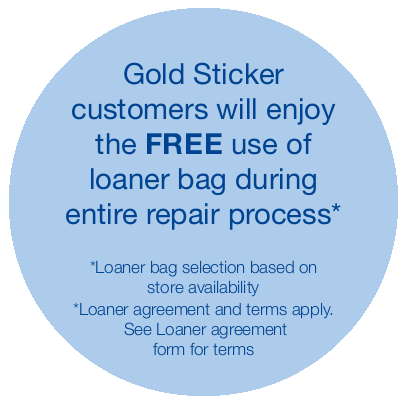 Crew Outfitters store locations are committed to performing the following luggage repairs for walk-in customers whose bags were purchased from Crew Outfitters, Field Shops, and Stop-Over Stores - as identifed by a receipt, proof of purchase, warranty registration form or a "gold sticker."

| | | |
| --- | --- | --- |
| ALL OTHER REPAIRS* | HANDLE REPLACEMENTS* | WHEEL REPLACEMENTS* |
| • Warranty or Non-Warranty requiring 20 minutes of labor or less | • Warranty or Non-Warranty requiring 20 minutes of labor or less (charges apply for Non-Warranty) | • Requiring 20 minutes of labor or less. Charges apply. |
*When parts are available. Part/wheel selection may vary.
In addition, the "Gold Sticker" policy provides:
FOR ITEMS THAT REQUIRE REPAIR AT THE MANUFACURING FACILITY
Crew Outfitters will facilitate shipping and complete all warranty and work order paperwork for repairs and provide necessary correspondence between customer and manufacturer.
*All bags shipped will be empty
Stores and websites will, when available, stock a variety of parts - contact the location you purchased the bag from for parts and basic instructions. Or, contact the manufacturer:
DIY repairs to be performed off sight. Crew Outfitters does not loan out tools for use on or off sight.
*shipping prices may change without notice