Crewoutfitters.com orders are processed in the order they are received and expedited shipping orders are elevated in priority to meet the delivery deadline. All orders are shipped from our location in Aurora, MO.
Expedited orders placed Monday through Friday by 2:00pm (CST) will ship the same day, if product ordered is in stock. Orders placed on Saturday or Sunday will be processed the following Monday. UPS and FedEx do not pick up or deliver on weekends. Shipping times do not include processing time (most in stock items generally take 24-48 hours to process)
We currently only deliver to U.S. and Canada* addresses, and cannot ship to U.S. territories or APO/FPO/DPO addresses.
*Customers are required to pay all associated duties and fees when choosing to ship internationally.
We offer several shipping methods:
Ground Delivery: 2-5 business days
2-Day Air Delivery: 2 business days
Overnight Delivery
US mail
US Priority Mail
Please Note: FedEx Express packages are not delivered on Saturday or Sunday. Any FedEx Overnight or 2 day air orders placed on Friday after 2pm will not be delivered until the following week. If you have a specific date you need your order by, please call us and we can assist you in selecting the correct shipment method.
Crew Outfitters is not responsible for carrier delays, lost, or stolen items. Please allow extra transit time for time sensitive shipments.
Below is a reference guide for the estimated delivery times from Crew Outfitters in Aurora, MO. The transit days may be subject to change and are only a guide. Any specific questions regarding the delivery timeframes should be directed to the carrier.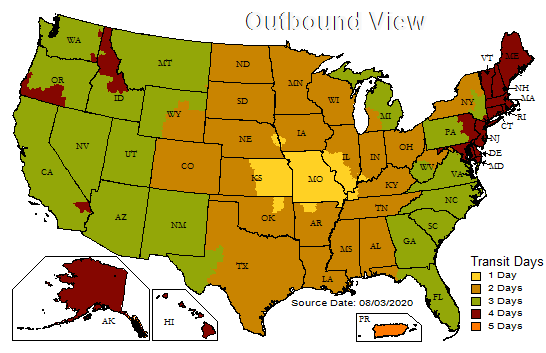 How Shipping Costs Are Calculated
The shipping cost for most items is based on the item's size, weight, shipping method and delivery address. Luggage and oversized items are subject to additional weight charges.
In your shopping cart, we show an estimated shipping cost, based on our lowest-price shipping method and assuming all items in your cart are going to a single address within the 48 contiguous United States.
Sales Tax: Tax will be charged only to orders which have a Florida, Missouri, Texas, Kentucky, Georgia, or Michigan shipping address. Sales tax will added to these orders at the time of checkout.
Return Information and Policies:
Receipt required (Invoice required for internet and in-store orders).
Must be returned within 30 days of date the order was received.
All returns or exchanges must be returned in new and unused condition.
All items must be in original packaging with tags attached.
Manufacturer's warranties apply.
Instructions for Return or Exchange by mail:
Customer is responsible for all return shipping costs. Please include sales invoice/return form in the box. If invoice is not available, please call 417-459-4713.
Send returns to the address below:
Crew Outfitters
579 West High St
Aurora MO 65605
Custom orders are not returnable or exchangeable.
ALL PRICES, SHIPPING RATES AND PRODUCT AVAILABILITY SUBJECT TO CHANGE WITHOUT NOTICE.
All orders placed with Crew Outfitters (phone, fax, mail, internet/web & email) constitute the acknowledgement and acceptance of all conditions listed below. All parts shall remain the property of Crew Outfitters until paid for in full. All prices, materials, brand name, design and product specifications are subject to change without notice. Crew Outfitters reserves the right to change the method of shipping to a billing address. All credit card orders will not be shipped until all information is verified and matched. All other orders (Check, money Order, E-Check) will not be shipped until payment has been received in full. All unpaid orders will be cancelled after 30 calendar days. Product availability is subject to change with out notice. Customer will be notified by email if product(s) is unavailable. Orders will only ship complete unless otherwise requested by customer, and additional shipping charges will apply.